News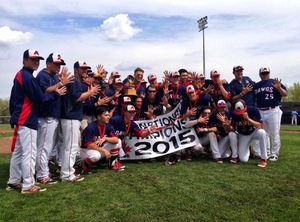 05/15/2015 12:51 PM
-
It is an exciting time around Spitz Stadium. The Bulls season is only two weeks away! Last weekend the Prairie Baseball Academy captured their 5th straight CCBC Championship at Spitz. In this weeks player profile we will look at two players who were integral parts of the championship. They are also twins. Clark and Mitch Grisbrook are from North Vancouver, BC. They also make up their own battery, Clark is a pitcher and Mitch is a catcher.
The 2015 college season was successful for both of the boys. Clark, a sophomore at the Prairie Baseball Academy was 6-0 with a 3.48 ERA in 41.1 innings. Grisbrook also struck out 22, while walking 15. Clark was at his best when it mattered most. In the third game of the CCBC Tournament Clark pitched a complete game, giving up only 3 hits and striking out 6. The win guaranteed the Dawgs the 1st overall seed in the playoff round of the tournament. Mitch Grisbrook was a first year PBA player this season. With a crowded catching depth chart it took Mitch a few series to earn his spot. In 16 regular season games Mitch hit .380 with 22 hits, 5 2B, 3 3B, 9 RBI's and 5 SB for the Dawgs. In the CCBC tournament Mitch caught 4 of the 5 tournament games, playing outstanding defensively, throwing out 4 base stealers. He also chipped in with 3 hits and 2 RBI's in a tournament low in scoring.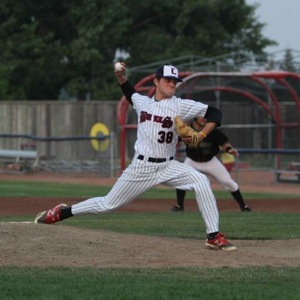 The Bulls coaching staff is excited to see if both boys can continue playing well and contributing for the 2015 Bulls squad. Be sure not to miss the Bulls home opener which takes place May 29 at 7:05 against the rival Okotoks Dawgs at Spitz Stadium.