News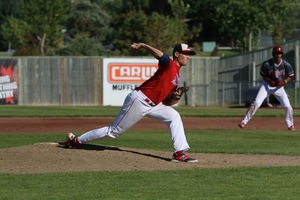 04/23/2015 9:49 PM
-
Ben Kennedy moved to Lethbridge when he was 11 years old. Less than a decade later he will be putting on a Lethbridge Bulls jersey for the first time and pitching for a team he once was the bat boy for. Ben loved the competitive atmosphere he experienced at those early Bulls games, and he is excited to have a chance to pitch in front of the great Bulls fans this season. "When I became the batboy that summer, it introduced me to the competition of elite level college baseball." Kennedy also remembers one more thing about that summer "I was the bat boy when Coach Mac played outfield!" Coach Mac has had a chance to coach Ben the last two seasons with PBA and will be looking to get a lot out of him this summer.
Kennedy is in his second year on the PBA Varsity team. Last year Kennedy was the winning pitcher in the 2014 CCBC Championship Game. His gutsy effort over 5 1/3 innings in the third game of the day, all win or go home games was impressive. Kennedy has come into his own this season with the program. He currently leads the CCBC with a 0.58 ERA, and is second in strikeouts with 26. The Dawgs will look to lean on Kennedy this year when they attempt to win the championship for the 5th straight year.
The Bulls are excited to see what Kennedy can do with a Bulls uniform on this summer. Kennedy has the arm to be a dominant presence on the mound.