News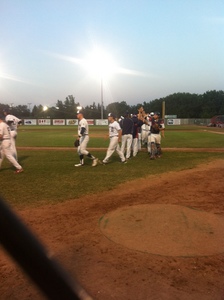 07/28/2014 10:46 AM
-
Last night the Lethbridge Bulls took on the Yorkton Cardinals for their last regular season home game! The Bulls pulled out on top with a 14-4 victory over Yorkton.
The pitching staff for the evening was strong with Kyle Olliges starting the Bulls off and taking them through 6 innings where he was relived by Myles Vincent, Dylan Hastings, and Tyson Hudson each for an inning to finish out the game.
The Bulls 14 run score was helped along the way by a strong double hit by Owen Taylor, scoring 3 runners. Throughout the game runs were scored by Cody Stewart, Taylor Hutchison, Dylan Dyson, Travis Steinke, Nolan Bumstead, Owen Taylor, Kade Billeaudeaux, and Evan Comeau.
The Bulls have two more regular season away games, Tuesday night in Medicine Hat and Wednesday night in Okotoks. After these games the Bulls will be heading for the play-offs!