News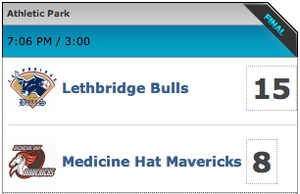 07/22/2014 10:12 PM
-
The Bulls took on the Mavericks tonight in Medicine Hat coming out on top with a 15-8 victory!
Starting pitcher for the Bulls tonight was 17 year old Ben Onyshko, who led the Bulls through 6 complete innings. Dylan Hastings took over for the Bulls in the bottom of the 7th, and Nolan Bumstead stepped in at the bottom of the 8th to finish out the game.
The Bulls started out strong with two runs in the first inning by Brandon Bufton who hit a single and Mitch Dornblut who was walked. They kept the ball rolling in the second inning with another 5 runs scored by Taylor Hutchison, Cody Stewart, Justin Clarkson, Brandon Bufton, and Mitch Dornblut.
Scores in the third inning remained 7-0, and changed to 7-1 in the bottom of the fourth as Medicine Hat hit a homerun. Going into the fifth inning Taylor Hutichson scored another run for the Bulls and the Mavs answered with 3 more runs. Leaving the score after 5 complete at 8-4 for the Bulls.
The Bulls lit up the top of the 6th inning scoring 6 and bringing the score to 14-4. In the bottom of the inning the Mavericks scored their second home run of the night but were held at one run by the Bulls defense. The seventh inning saw both teams being held to keep the score at 14-5.
The Mav's held off the Bulls in the top of the 8th, and the Bulls brought in Nolan Bumstead to pitch, keeping the Mavericks from scoring. Into the top of the ninth, the Bulls bring in Bumstead for a score of 15-5. The Maverick's scored 3 in the bottom of the ninth for a final score of 15-8 for the Bulls.
Tonight's game brings the Bulls record in the WMBL to 27-13, continuing to hold their place as first in the league! Join the Bulls Thursday at 7:05pm at Spitz Stadium to watch as they keep the balling rolling and try to add another win to the books!