News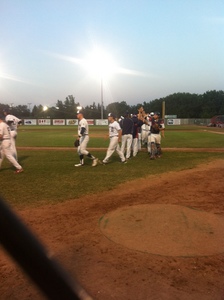 07/20/2014 8:38 AM
-
It was a windy night at the stadium as the Lethbridge Bulls took home another win last night against the Okotoks Dawgs. Starting pitcher, Kyle Olliges led the Bulls through 7 innings before Dylan Hastings took over in the 8th and Tyson Hudson finished the game out in the 9th.
After being down 3-0 going into the bottom of the 1st, Travis Steinke started of the Bulls night with a solid double in the second inning. A double for Taylor Hutchison advanced Steinke to scoring position to earn the Bulls first run of the night. The 4th inning saw a string of runs as the Bulls scored 4 runs from Mitch Dornblut, Travis Steinke, Taylor Hutchison, and Bretton Gouthro, bringing the Bulls score to 5-3.
The Dawgs scored 1 in the top of the 6th, so the Bulls retaliated with 2 runs in the bottom of the 7th from Cody Stewart and Evan Comeau. The Dawgs scored 1 more in the 8th and 1 more in the ninth before the Bulls ended the game with a score of 7-6.
Last nights win brings the Bulls record to 25-13, holding their lead in the WMBL. Catch more Bulls action tonight at Spitz Stadium as the Bulls take on the Medicine Hat Mavericks.
See you at the Stadium!