News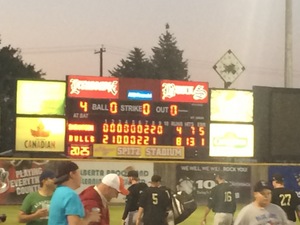 07/11/2014 10:44 PM
-
It was another beautiful night at Spitz Stadium as the Bulls took on the Saskatoon Yellow Jackets! The Bulls looked a little different tonight as they sported bright pink jersey's on the field to be auctioned off after the game with the proceeds going to the fight against breast cancer!
Kyle Olliges started the Bulls off on the mound and took the Bulls through a solid 7 innings, only allowing 2 runs to score. After Olliges, Kregg Snook took the mound in the 8th, allowing 2 runs, and Jake Hansen finished out the game in the 9th.
The Bulls showed a solid performance on offence, with runs being scored by Stewart, Clarkson, Bufton, Steinke, Hutchison, Guthro, and two from Comeau.
The Bulls took down the Yellow Jackets 8-4 to end the game, and to bring their record to 22-9, continuing their streak as first place in the league.
Make sure you swing by Spitz Stadium for the Chevelles Concert with special guests True North and hypnotist JR Matthews! Bring your lawn chairs and set up on the infield to enjoy an evening of entertainment!