News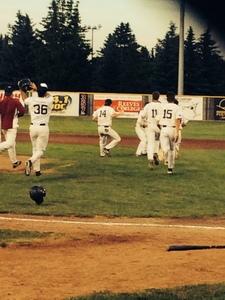 07/04/2014 9:55 PM
-
Another beautiful night for baseball at Spitz Stadium! The Bulls took on the Swift Current Indians and came out on top to keep hold of their 1st place spot in the league, and bup their record up to 17-8.
The Bulls starting pitcher for the night was #35 Luc Hebert. Who was followed in the 8th by #22 Myles Vincent and in the 9th by #29 Kregg Snook.
The Bulls started off the game slowly, not getting on the socreboard until the 5th inning, where they brought in 2 runs. The Bulls than went on to score 2 more runs in the bottom of the 8th giving them the lead for the first time in the game.
The excitement began to build as Swift Current scored one to tie up the game in the top of the 9th. Going into the bottom Kade Billeaudeaux hit a beautiful double, and Evan Comeau hit a single to bring home Billeaudeaux and bring the Bulls their 6th straight win!
Join us tomorrow as the Bulls look to extend their win streak!