News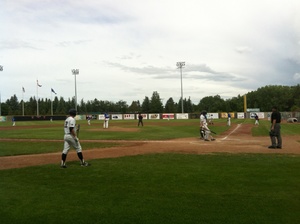 06/30/2014 9:13 AM
-
Bulls once again took on the Melville Millionaires at Spitz Stadium Sunday afternoon with perfect baseball weather! The Bulls took a victory, beating the Millionaires 15-3. .

Tonight's starting pitcher was Kyle Olliges, who pitched 6 complete innings facing 25 batters and only allowing 2 runs. Olliges was followed by Kregg Snook in the top of the 7th and Dylan Hastings to finish out the game in the top of the 8th.

The Bulls seemed to keep on rounding the bases with runs from Stewart, Guthro, Dyson, Dornblut, Steinke, Hutchison, Taylor and Comeau.

Join the Bulls on Tuesday July 1st for the Canada Day celebrations! The Bulls will take on the Moose Jaw Miller Express in a double header, with the first game being at 2:05pm and the second game being at 7:35pm. Join the players on the filed after the game to watch the fireworks!

Be sure to follow us on Instagram and twitter @lethbridgebulls for live updates, contests and breaking news!