News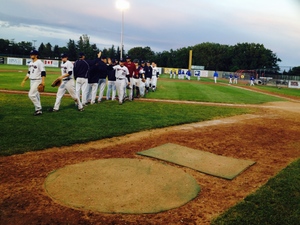 06/28/2014 10:18 PM
-
It was another exciting evening at Spitz Stadium for the Bulls, as they faced the Melville Millionaires. The Bulls won, beating the Millionaires 9-6. Although the sky was dark and cloudy early on, the rain held off, allowing everyone to enjoy a great game.
Tonight's starting pitcher was Scott Cone, followed by Luc Hebert in the top of the fourth inning. Jake Hansen finished out the game, after a pitching change in the top of the ninth inning.
There were several great plays tonight, including two RBI scored by Mitch Dornblut in the bottom of the first inning. After tonight's win the Bulls now have a 12-8 record so far this season.
The Bulls will rest up and be back at Spitz Stadium tomorrow afternoon, when they will be looking for another win. Come out and support the Bulls as they take on the Millionaires again at 2:05pm!
Be sure to follow us on Instagram and twitter @lethbridgebulls for live updates, contests and breaking news!