News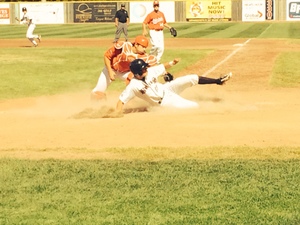 06/22/2014 5:15 PM
-
It was an exciting afternoon at Spitz Stadium today! After a tough loss to the Okotoks Dawgs last night the Bulls came out looking for revenge! The Bulls came out on top in style with a 7-6 walk off win.
This game was the third and last game of the Grand Slam Baseball Festival. Tonight's starting pitcher was Scott Cone, followed by Kregg Snook in the top of the fifth inning, Luc Hebert in the top of the 8th, and Jake Hansen to finish out the game.
Some great plays by the Bulls tonight include a double in the fourth inning for Brandon Bufton, scoring two for the Bulls, a single from Dylan Dyson that brought in 2 runs in the bottom of the ninth, and a single for Mitch Dornblut bringing in an addition 2 for a walk-off 7-6 Bulls victory! The Bulls season record is now sitting at 10-6.
Follow us on twitter @lethbridgebulls for live updates, contests and breaking news!