News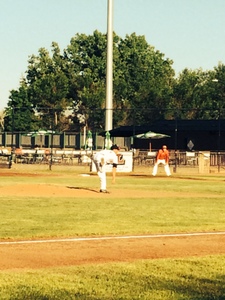 06/21/2014 10:54 PM
-
It was another sunny and warm evening at Spitz Stadium as the Bulls faced the Okotoks Dawgs. After a great effort by the Bulls, they fell 8-2 to the Dawgs.
This game was the second game of the Grand Slam Baseball Festival, which continues with another game tomorrow afternoon. Tonight's starting pitcher was Kyle Olliges, followed by Mack Major in the top of the fifth inning. In addition, a pitching change to Myles Vincent in the top of the eighth and Tyson Hudson in the top of the ninth.
Some great plays by the Bulls tonight include a double down the third base line in the bottom of the second inning for Brandon Bufton, scoring one for the Bulls. The Bulls season record is now sitting at 9-6.
The Bulls will rest up and be back at Spitz Stadium tomorrow to turn things around. They will face the Okotoks Dawgs again at 2:05pm tomorrow afternoon.
Follow us on twitter @lethbridgebulls for live updates, contests and breaking news!