News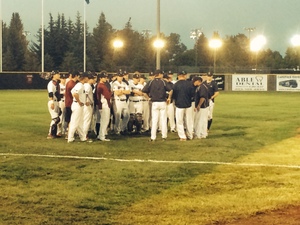 06/20/2014 10:30 PM
-
It was an exciting evening at Spitz Stadium for the Bulls, as they faced the Edmonton Prospects for the fourth time this season. The Bulls finished with another win, beating the Prospects 11-4. This game kicked off the Grand Slam Baseball Festival - a weekend-long celebration of baseball - after a few cancellations earlier this week due to the rainy weather.
The first run of the night was a double by Dylan Dyson. There were several great plays this evening, including a three-run double for Justin Clarkson.
After tonight's win, the Bulls have a 9-5 record so far this season. They will be looking to keep this momentum going as they play two more home games this weekend. Tomorrow night at 7:05pm the Bulls will be back at Spitz Stadium for their next game against the Okotoks Dawgs. Come out to the ballpark and show your support!
Be sure to follow us on twitter @lethbridgebulls for live updates, contests and breaking news!