News
06/13/2019 9:54 AM
-
The Lethbridge Bulls bats came alive on Wednesday night as they swung to a 13-5 victory over the Melville Millionaires.
Lethbridge, who currently holds a record of 6-6 for the season snapped a mini two-game losing skid, while Melville fell to 4-9 on the season.
College of Southern Idaho product, Connor Breding got the start for the Bulls and picked up his first victory of the season after throwing five innings, only allowing one earned run, striking out five. Liam Sabiston and Jordan Parranto finished the night off each throwing two innings a piece.
First baseman, Kaleb Warden was the heavy hitter of the game after he hit his first home run of the season and collected two hits on the night, along with five RBI's. Warden currently leads the WCBL in batting average (.514), slugging percentage (.800) and OPS (1.338) and shows no signs of slowing down.
Bulls second baseman/designated hitter, Ashton Roy continued to dominate WCBL pitching after he collected three more hits, reaching base four times, driving in one run. Roy is starting to creep into the MVP conversation after his hot start to the season in which he has a .413 batting average and leads the league in home runs with four and in RBI's with 20.
Lethbridge is back in action Thursday in Melville when they meet the Millionaires for the finale of this three-game series.
The Bulls return home on June 20th when they host Plaid for Dad Night presented by KB Heating. Players will be wearing special plaid jerseys to help raise awareness for prostate cancer, with the jerseys going up for auction after the game and all proceeds going to the Plaid for Dad Foundation. To learn more about the Plaid for Dad Foundation, click here.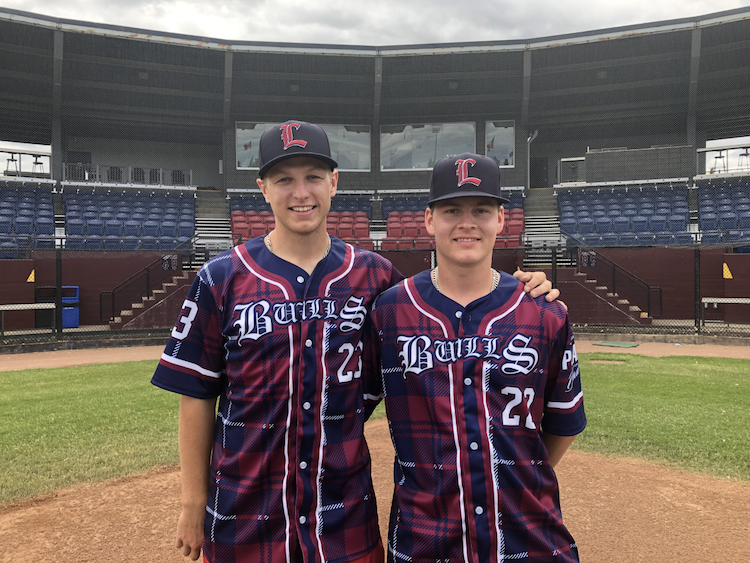 (Dylan Borman and Jaret Semeniuk wear the special Bulls plaid jerseys)