News
05/21/2019 9:49 AM
-
When the calendar flips to May 25th, and the clock strikes 7:05PM, the Lethbridge Bulls will be charging into another season of WCBL baseball.
The Lethbridge Bulls are coming off a 2018 campaign which saw them finish 19-29 in regular season play, leading to a fourth place finish in the WCBL's Western Division and a first round departure to the Medicine Hat Mavericks in the playoffs. A lackluster season, but not one that was wasted. As 2018 seemed to be a rebuilding year, the Bulls are now looking forward to a 2019 season which could see them compete for the WCBL championship.
Returning Players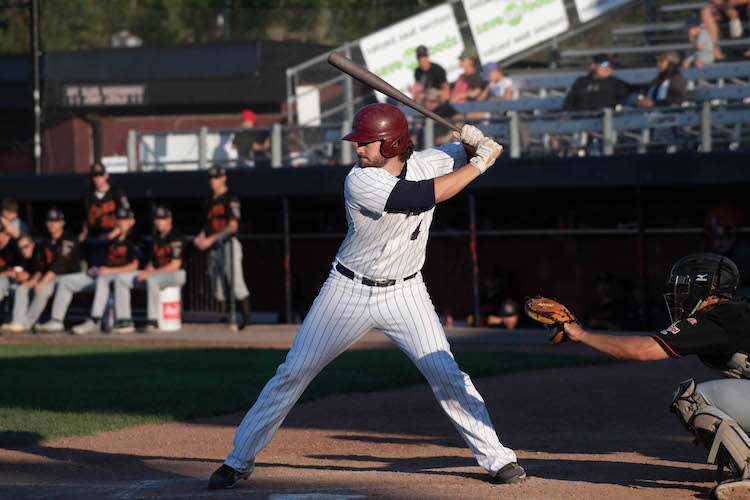 (1B Kaleb Warden | Photo By MPP Photography)
2018 WCBL Rookie of the Year award winner, 1B Kaleb Warden and 2018 WCBL Canadian Rookie of the Year award winner, C Jaret Semeniuk both headline the crop of returning players this season.
A year ago, Warden posted a slash line of .369/.444/.542 with seven home runs and 38 RBI in 46 games, while Semeniuk lead all WCBL catchers in batting average and on base percentage, slashing an impressive .371/.451/.900 over 30 games.
Other notables returning to the club this year include, SS Nick Ankermann, 3B Dylan Borman, and P Jaden Griffin.
Ankermann will be entering his third season in the WCBL and second with the Bulls. The righty-swinging shortstop played for the Eastern New Mexico University Greyhounds in the NCAA Division II - Lone Star Division this past season and put up tremendous numbers, batting .360, with two home runs and 29 RBI in 44 games.
Borman is heading into his third season with Lethbridge and will be looking to build off of what he accomplished a year ago when he batted .282, while clobbering seven home runs and driving in 35 RBI in 44 games.
Griffin is currently attending Virginia Commonwealth University, and is entering his second season with the Bulls. The lefty had a strong campaign a year ago and emerged as one of the Bulls top and most consistent starting pitchers, posting a 3.19 ERA, while striking out 28 batters in five starts for the Bulls.
Other returnees: 2B Ashton Roy, OF Brett Mercier, P Kyle Poapst, P Ben Erwin, and P Liam Sabiston.
NCAA Division I Additions
A year ago, the Bulls were the fifth worst team in terms of ERA and finished second in base on balls allowed by a pitcher, a stat the Bulls did not want to be near the top of. Bulls Head Coach, Jesse Sawyer knew he had to beef up the teams pitching and targeted NCAA Division I schools to do so. With a record number of Division I arms in the Bulls clubhouse this season, expect Lethbridge to lead the league in many positive categories this season.
The Bulls also brought in some top hitters from NCAA Divison I programs, which should help their depth, most notably in the outfield.
Bulls NCAA Division I Players
OF Grant Kerry - Boise State University
OF Parker Smejkal - University of Nebraska Omaha
OF Brett Mercier - Fairleigh Dickinson University
P Jaden Griffin - Virginia Commonwealth Univeristy
P Evan Chenier - Virginia Commonwealth Univeristy
P Ben Erwin - Niagara University
P Cal Theal - Niagara University
P Jordan Parranto - Niagara University
P Dylan Steen - Washington State University
P Adam Macko - Purdue University
P Chase Florendine - California State University Northridge
To view the full Lethbridge Bulls Roster, click here.
Notable Events in 2019
TCMM Kids Camp and Benefit Game
If you're intersted in joining us for the TCMM Kids Camp and Benefit Game, please contact Jourdan Jones at 403-320-2025 or by email at [email protected]
The VisitLethbridge.com Home Opener - Thursday, May 30th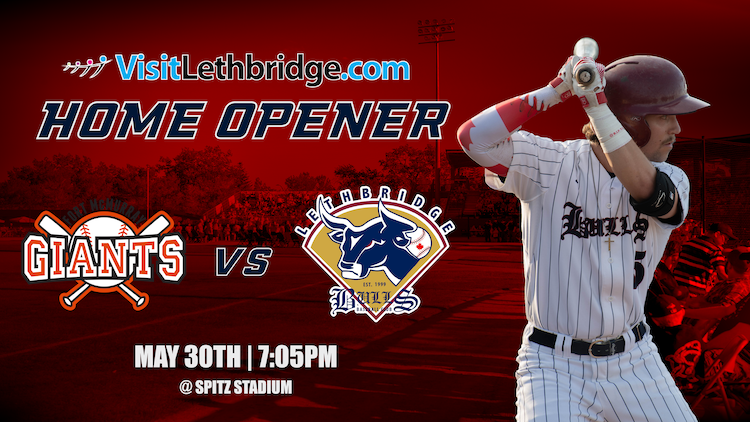 This season the Bulls will be introducing Special Jersey Nights where the Bulls will wear themed jerseys for the entirety of the game, with a jersery auction to follow.
KB Heating Plaid For Dad, Fathers Day Game - June 20th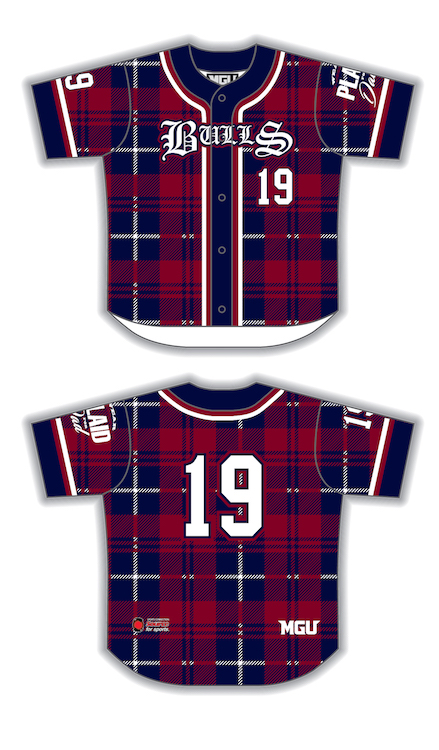 Canada Day Spectacular Presented by Northside Lethbridge Dodge - July 1st (Double Header)
Save on Foods Supoer Hero Day - July 21st
Weekday Promotions
This season, the Bulls will be giving fans the ability to take advantage of deals every weekday!
Markdown Monday
Special Ticket and Concession pricing every Monday!
Toonie Tuesday
$2 Bleacher Tickets, $2 Concessions Items!
Wild Deal Wednesday
Special Ticket and Concession pricing every Wednesday!
Thirsty Thursday
Happy Hour Pricing on Drink of the Night!
Gas King Family Friday
4 Bleacher Tickets, $25 Food Voucher, Game Day Program, and $10.00 Gas King Gift Card all for only $40.00! ($80.00 Value)
YMCA Super Saturday
Special Events Presented By YMCA!
Jr. Bull Sunday Presnted by Ryan Tunall
Special pricing for kids on tickets and select concession items, fun activites around the ballpark, run the bases and meet the Bulls after the game and more!
The VisitLethbridge.com Bulls Webcast Returns for 2019

The Lethbridge Bulls are proud to present live game action in 2019 from Spitz Stadium! The VisitLethbridge.com Bulls Webcast has become a hit to our fans and provides the ability to watch in the comfort of your own home. In 2019 expect an experience like never before as there will be major improvements coming! Stay tuned.
Our coverage will be presented live on YouTube and will be anchored by Bulls play by play announcer Roger Bruinsma, who will be joined by special guests throughout the season.
Our YouTube Channel can be found here: https://www.youtube.com/channel/UCx84d0KMhvcV5lQl8JJyw2A