News
02/28/2019 12:56 PM
-
LETHBRIDGE, AB - The Lethbridge Bulls announced Friday, the signing of OF Robert Bostedt out of Arizona Christian University.
Bostedt, a senior at Arizona Christian University, is in his first year with the program and has appeared in 11 games this season, where he's gathered 5 hits, 2 doubles, 7 runs scored and has put up an OBP of .333.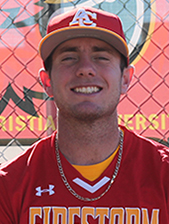 (Robert Bostedt)
The product of San Diego, California joins a Bulls roster who is looking to improve from what they accomplished in 2019. Bostedt will look to be an important part of the Bulls as they hunt for a WCBL Championship after falling short a year ago, losing out in the first round to the champion Medicine Hat Mavericks.
The Bulls season begins May 25th in Edmonton, as they take on the Prospects in a two game set before heading home to face the Fort McMurray Giants in the VisitLethbridge.com Home Opener May 30th.
Season tickets are now available and can be purchased by clicking here.
Keep up to date with Lethbridge Bulls player signings by checking out BullsBaseball.com every week, or by following us on social media.