News
01/30/2019 12:17 PM
-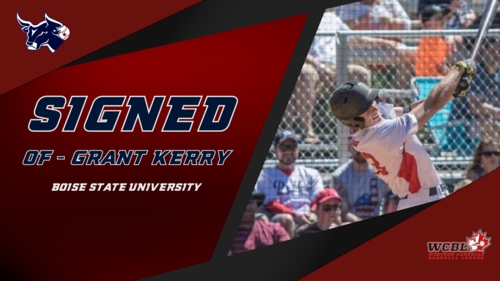 LETHBRIDGE, AB - The Lethbridge Bulls continued adding to their roster, announcing Wednesday, the signing of OF Grant Kerry out of Boise State University (NCAA Division I).
The freshman outfielder at Boise State University's revamped baseball program hails from Wynard, England and attended high school in Perth, Australia, where he played for the Perth Heat.
Having played baseball in England, Australia, the United States of America and now in the summer of 2019, Canada, Kerry can say he has played baseball all over the world, something not many can say they have done.
Projecting to be a starting outfielder for the Bulls with his strong offensive ability and above average defence, Kerry will be a great addition to the Bulls roster for the 2019 season.
The Bulls season begins May 25th in Edmonton, as they take on the Prospects in a two game set before heading home to face the Fort McMurray Giants in the VisitLethbridge.com Home Opener May 30th.
Season tickets are now available and can be purchased by clicking here.
Keep up to date with Lethbridge Bulls player signings by checking out BullsBaseball.com every week, or by following us on social media.