News
10/11/2018 1:29 PM
-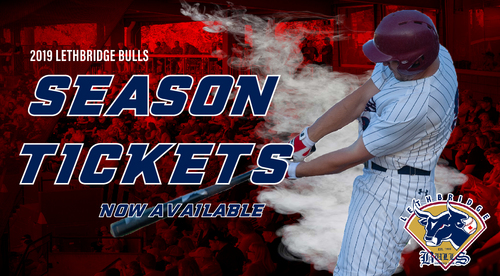 You can now buy 2019 Lethbridge Bulls Season Tickets online and can do so you by following the link provided below,
https://tickets.bullsbaseball.com/events/8864-2019-season-tickets
Don't forget the Early Bird Pricing Special!
Early bird pricing on 2019 Lethbridge Bulls Season Tickets is available at the Spitz Stadium Office from now until December 31st, 2018. Get your tickets quick before this great deal of 20% off passes by!
EARLY BIRD PRICING:
Red Season Tickets: $380 | Regular $475
Blue Season Tickets: $272 | Regular $340
Silver Season Tickets: $232 | Regular $290
Bleacher Season Tickets: $160 | Regular $200
The Lethbridge Bulls open their 2019 season in early June, with an expanded schedule that includes four more home games than years previous.
To purchase your tickets head down to the Spitz Stadium Office located at 2425 Parkside Drive South, Lethbridge, Alberta. You may also call 403-320-2025 for more information.