News
06/14/2018 10:25 PM
-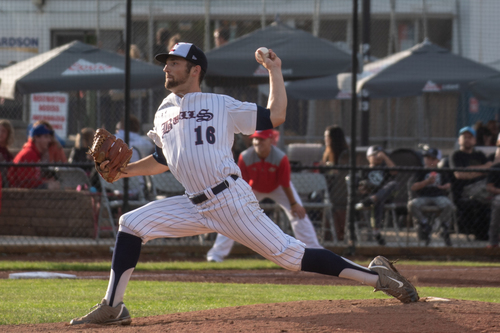 It was a dark, cloudy, cold night, but the Lethbridge Bulls were able to walk out of Spitz Stadium with the win tonight as they defeated the Brooks Bombers by a score of 4-3.
On the mound for the Lethbridge Bulls was Andrew Grieder out of the University of Alberta.
Coming into the game, Grieder was looked upon as the bright spot in this pitching corpse wielded by the Bulls, as he's put up 10 total strikeouts throughout his two starts this season.
Looking to build off his last two starts, Grieder took the mound and dominated the entire Bombers line-up since his first pitch was thrown to start the game, finishing off his night with 7.2 innings pitched, 2 earned runs, 4 hits and 10 strikeouts.
Heading out of the game with the lead, Talon Derrick took over in the 8th with two runners on base, looking to salvage the two run lead Grieder left behind.
Failing to do so after a freak infield single, the Bombers fought back and tied the game with 2 runs in the 8th inning, tying the ball game 3-3.
After escaping the top of the 8th, the Bulls headed into the bottom of the inning, hoping they don't let another game get away from them after this slow start to the season with a record of 2-8.
Loading the bases, up came shortstop Nick Ankermann, the hometown kid looking to regain the lead and he did just that. A sac fly would score first baseman, Kaleb Warden and put the Bulls ahead, with the run later being the deciding one.
Long-time Bull, Pitcher Chris Stodolka came in to close things out and gather the save as the Bulls walked out with the 4-3 win over the Bombers to improve their record to 3-8 on the season.
In hopes of turning the season around, the Bulls still have some work to do, but tonight was definitely a start. Starting the season the way the Bulls have, they know they have dug themselves a hole, but Head Coach, Jesse Sawyer knows this club has what it takes.
The Bulls play their next series this weekend in Edmonton as they take on the Prospects in a three-game set before coming home for a match-up with the long-time rival, Okotoks Dawgs on Tuesday, June 19th at 7:05PM.