News
06/01/2017 11:53 AM
-
The Lethbridge Bulls kicked off their 2017 year on Wednesday night at Spitz Stadium. The annual Tanner Craswell, Mitch Maclean Kid's Camp and Memorial Game were a huge success. Before the night game against the Vauxhall Jet's, both teams helped run the TCMM Kid's Camp. Over 120 kids ages 4-15 came out to participate in the camp. The coaches and players ran the campers through hitting, infield and outfield on a beautiful evening at Spitz Stadium.

Following the camp the Bulls and Jets took part in the annual TCMM Memorial Game. A great crowd was on hand to watch the Bulls take down the Jets 3-0. Brady Moxham started on the mound for the Bulls, throwing 2 scoreless innings. Wesley Moore started on the mound for the Jets in the final game of the season for Vauxhall. Moore, also a Junior National team member will join the Bulls pitching staff for the summer now that his spring season has finished. Moore threw well in his 3 ⅔ innings of work against his new team. Bulls shortstop Dylan Flasch provided the best swing of the night, a large home run over the left field scoreboard in the 4th inning.
All in all Wednesday night was a great evening. As always the first batter of the game was played with no shortstop and no 2nd baseman in honour of our two former teammates. The memory of those boys continues to live on. All proceeds from last night's game go towards the TCMM Scholarship Fund.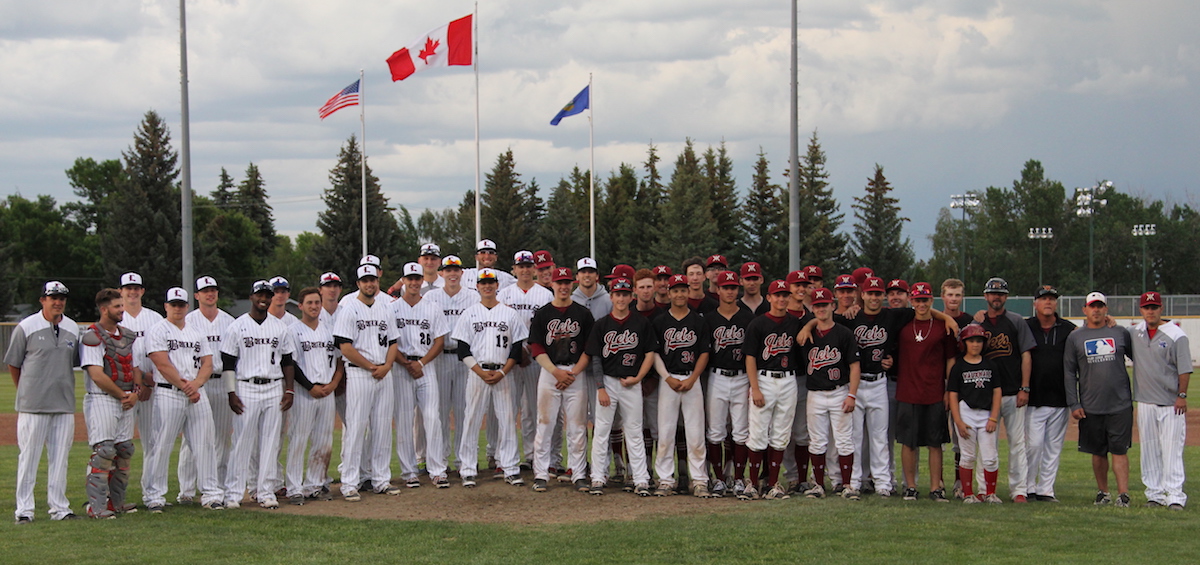 Moving forward, the Lethbridge Bulls kickoff their 2017 WMBL season Thursday night in Brooks against the Bombers. Friday night the Bulls have their home opener at Spitz Stadium. The game is sponsored by Brenda Wolsey of Royal LePage. June 2nd is also the first Gas King Family Friday, take the whole family out for just $40. For full details on that package please click here.
If you are interested in purchasing tickets for tomorrow nights game please click here, or contact the Spitz Stadium office at 403-320-2025.