News
08/18/2015 6:02 PM
-
In one of the most impressive feats in recent memory the Bulls finished off a perfect playoff run going 9-0. Sunday afternoon in Regina the Bulls held on to win in an event filled 9th inning to capture their first WMBL Championship in team history. Three series, three sweeps, and only three innings where the Bulls trailed all playoffs. Dylan Dyson was named the playoff MVP hitting .481 (18-38) with 6 2B, 3 HR, and 13 RBI's in 8 games. Dyson returned from a broken foot with two games to play in the regular season, and he was a huge presence in the middle of the lineup all playoffs.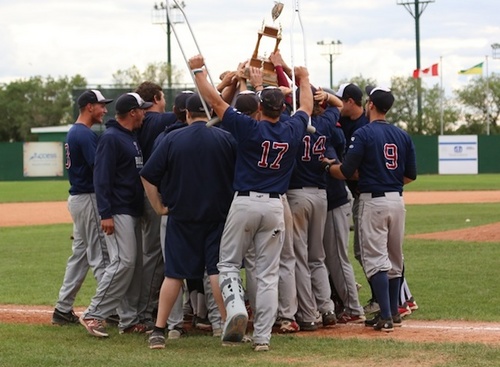 Kyle Olliges started the crucial 3rd game of the series, with the prospect of a game 4 double header looming with a loss. Olliges was outstanding all day en route to his 3rd win of the playoffs. Olliges pitched 8.1 innings surrendering only 4 hits, 2 ER and striking out 5. Regina picked up an unearned run in the 2nd inning and could not get to Olliges until a valiant rally in the bottom of the 9th inning. Attempting to finish the game, Olliges gave up a lead off single to center field, followed by an unlikely error from shortstop Evan Comeau. A 3-1 putout scored a run and Coach MacDonald went to the bullpen. Bulls closer Chris Stodolka was put in the game. Stodolka gave up a single to Jager Toffan that blooped into left field and scored a run. A two out line drive with runners on 2nd and 3rd ended the game, and the boy's dogpiled high above the Currie Field pitcher's mound. Last to the dogpile was regular season MVP Brandon Bufton who made the trip on crutches after breaking his leg on a hit by pitch in game 1 of the series.
On the offensive side the Bulls continued to hit from top to bottom in the lineup like they had all playoffs. Every Bulls starter recorded a hit and 5 Bulls had multi-hit games in the 15 hit effort. Bretton Gouthro was 3-4 in his final game with the Bulls after 4 seasons. Gouthro hit an incredible .563 with 9 runs scored in the playoffs. Travis Steinke was 2-4 with 3 of the Bulls 4 RBI's on the afternoon. For the playoffs the Bulls hit .337 with 75 runs scored in 9 games.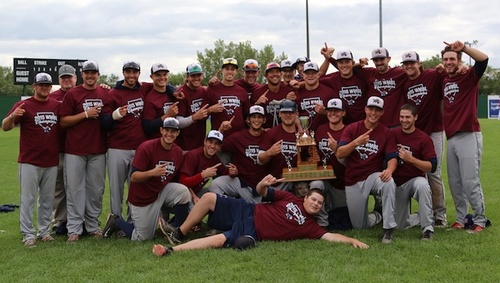 Congratulations to the 2015 Lethbridge Bulls!