News
08/14/2015 3:25 PM
-
The Bulls made a statement in game 1 of the 2015 WMBL Finals by crushing the Regina Red Sox 19-3 on Thursday night. The night was highlighted by Dylan Dyson's staggering performance. Dyson was 5-6 with 9 RBI's on the night. Dyson hit a grand slam in the 7th inning well over the wall in right field. Dyson is now leading all hitters in the playoffs with a .567 average 6 2B, 3 HR, and 17 RBI's thus far through 7 games.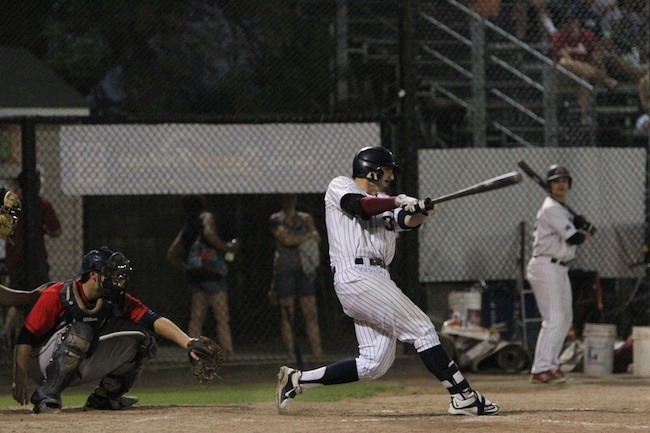 Bulls had contributions from all parts of the line up on Thursday night. Brandon Bufton was 2-3 with 4 runs scored, Jacob Caples was 3-6 with 3 RBI's, and Travis Steinke was 3-5 with 3 runs and 3 RBI's. In total the Bulls had 19 hits on the night. No team has been able to find a way to stop the Bulls offense these playoffs.
Clark Grisbrook went 8 strong innings to record his second win of the playoffs. Grisbrook surrendered 4 Red Sox hits, 2 ER, and 6 strikeouts during the game. Reno Dupuis threw a scoreless 9th to complete the game.
Tempers flared late in the game when the Red Sox hit two Bulls batters in a row. Cody Stewart was hit in the back, and Bufton the ankle. Both players were forced to leave the game, which left the Bulls in a desperate situation. Andrew Grieder was forced to play left field for the final two innings of the game. Grieder recorded his first career WMBL hit in the contest. A single through the right side of the infield.
The two teams will be back in action tonight at Spitz Stadium. Game time is 7:05 pm.