News
07/28/2015 9:00 PM
-
The Bulls went 2-0 in Moose Jaw on Saturday and Sunday. With a 13-0 victory over the Miller Express on Saturday the Bulls clinched the Alberta Division title and the best record in the WMBL. Clark Grisbrook started on the mound as was fabulous for the second straight outing. Grisbrook threw a complete game with 7 hits, no runs, and 3 strikeouts. Grisbrook kept Moose Jaw hitters off balance all night. He needed only 98 pitches over the nine-inning contest. Of Grisbrook's 98 pitches 67 were strikes.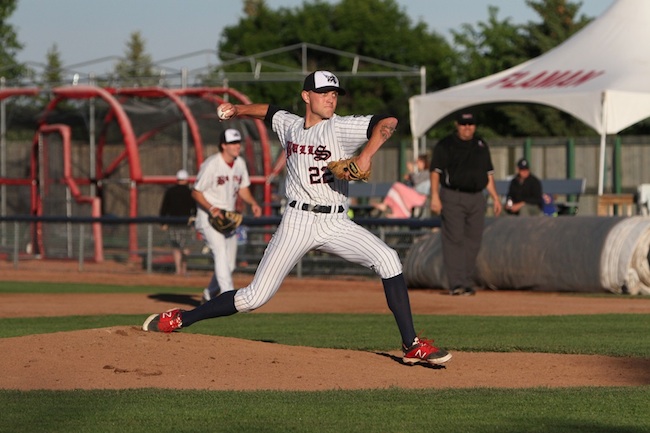 The Bulls hit the ball all over the yard on a beautiful night in Moose Jaw. Cody Stewart was 4-6 with 4 RBI's out of the leadoff spot for the Bulls. Jacob Caples had 4 hits of his own going 4-5 with 3 runs, and 2 RBI's on the night including his 3rd homerun of the season. In total the Bulls had 16 hits during the contest. By picking up their 32nd win of the season the Bulls achieved a win total that no other Bulls team has accomplished.
The Bulls celebrated their big win on Saturday with another win on Sunday. It wasn't the prettiest, but like they have so many times this season the boys found a way to get the W. After jumping out to a quick 5-0 lead in the top of the 1st the Bulls found themselves down 8-5 after 6 innings. Moose Jaw who is battling for the last playoff spot in the WMBL showed a lot of fight, but a 6 run top of the 7th put away any hope the Miller Express would have of a win on this night. Chris Stodolka picked up his 7th save of the season, pitching a scoreless 9th inning.
The Bulls have three more games before the end of the regular season. The boys will travel to Medicine Hat on Tuesday, before hosting the Okotoks Dawgs on Thursday and Friday in the final two home games of the season. Make sure to come out and support the boys as they look to finish on a high note heading into the 2015 Playoffs.