News
07/14/2015 11:58 AM
-
The Bulls went 2-1 over the weekend to push their record to 26-8 on the season. The Bulls lead second place Okotoks by 6.5 games, with 14 games remaining in the 2015 regular season. Friday night the Bulls put up their 4th shutout of the season downing the Moose Jaw Miller Express 9-0. Kyle Olliges started on the mound for the Bulls going 8 strong innings. Olliges gave up 10 hits, walked none and struck out 6 on the evening. Olliges is now 4-2 with a 2.08 ERA on the 2015 WMBL Season. Ben Kennedy pitched a scoreless ninth for the Bulls. The Bulls spread the offense around on the night. Centre Fielder Cody Stewart was 2-5 with an RBI and 2 runs scored. Trace Hansen was 1-4 with 3 RBI's and Evan Comeau was 1-2 with 2 runs and 2 RBI's.
Saturday the Bulls took on the Okotoks Dawgs at Seamen Stadium. The game saw two of the top pitchers in the WMBL battle head to head. Luc Hebert started on the mound for the Bulls and cruised through 5 innings. Hebert got into trouble in the 6th culminating in a 3 run home run for the Dawgs. The Bulls trailed 4-1 until the 8th inning when they rallied with 3 runs of their own to tie the game at 4. A tough bottom of the 8th inning resulted in a walked in run for the Dawgs, and the Bulls could not rally in the top of the 9th. Saturday was the first win the Dawgs have recorded against the Bulls this season. Hebert finished the evening with 5.2 innings pitched 4 ER, 3BB, 5 K's. Brandon Bufton and Mitch Dornblut knocked in 2 runs each to lead the offensive attack for the Bulls.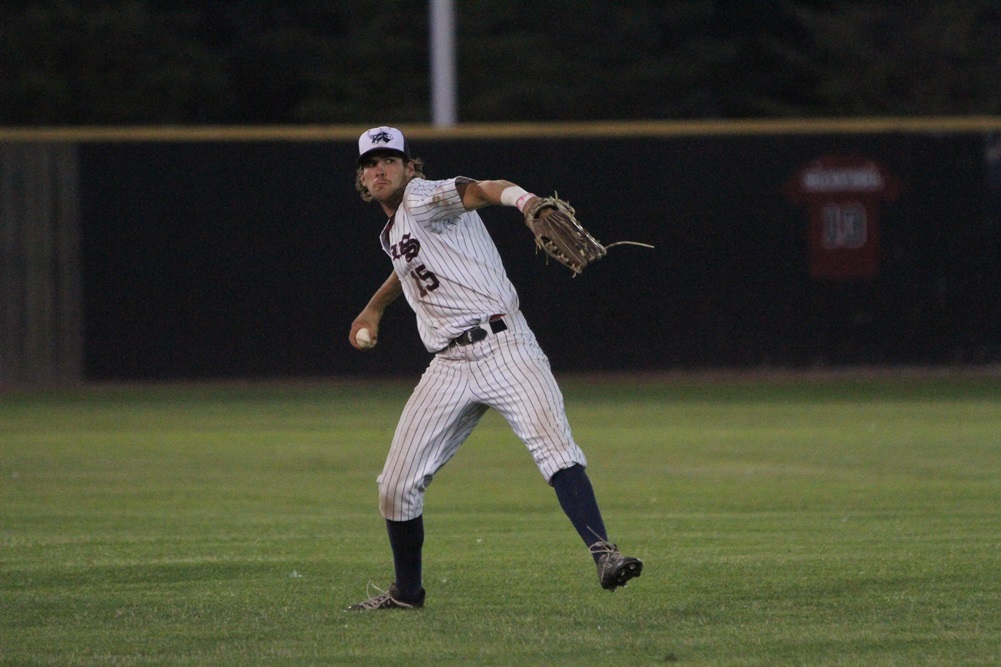 Sunday the Bulls took out whatever frustration was left over from Saturday night in Okotoks at the expense of the Medicine Hat Mavericks. The Bulls crushed the Mavs 14-2 while pounding out 25 hits in the afternoon contest. The top three hitters in the Bulls order (Cody Stewart, Trace Hansen, Brandon Bufton) all had 4 hits on the afternoon. Hansen accomplished and unbelievable feat by hitting for the cycle. Congratulations to Trace. Every starter in the lineup recorded a hit for the Bulls and 8 of the 9 hitters had multi-hit days. Over the Bulls last two contests against the Mavericks the boys have outscored the Mavs 27-5. The Bulls will look to continue their recent success against the Mavericks Tuesday evening at Spitz Stadium. Game time is 7:05pm.