News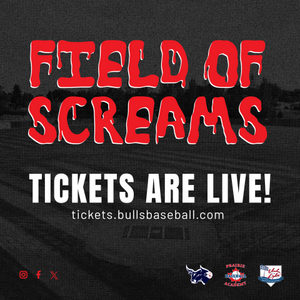 09/15/2023 11:42 AM
-
Will YOU survive the Field of Screams?!
About: The Field of Screams is BACK and better than ever! With a longer tour, more scares and chilling surprises, you won't want to miss this! If you survive, you will return to the land of the living with hot chocolate and smores over the fire. Experience Spitz Stadium like you've never seen it before this October!
Tickets: Book groups or individual tickets in advance to save big, or bring a food bank item to the gate. Book your tickets and learn more here: tickets.bullsbaseball.com
Dates and Times: Event lasts from Oct 20-Oct 31st. Gates are open between 6-9pm on weeknights, and extended to 11pm on Fridays, Saturdays, and Halloween Night!
Facebook Event: Join and Share the Facebook event here! Link
Volunteer to become a Haunter for the Field of Screams!
If you would like to volunteer as a Haunter for the event, choose one of the three option (volunteer opportunities limited to availability):
Call: (403) 320-2025 from Mon-Fri between 9:30am-5:00pm
Visit us at the Spitz Administration Offices: 2425 Parkside Drive S. Lethbridge from Mon - Fri between 9:30am-5:00pm
Email [email protected]
About the Field of Screams: The Field of Screams is an important fundraiser for the Prairie Baseball Academy, which provides scholarships to local PBA players and students at the Lethbridge College and University of Lethbridge. Many Lethbridge Bulls players have also started and continue their career through the Fall and Spring seasons of PBA baseball. Our volunteers are incredibly important to us, and we truly appreciate everyone who works on these events and supports the Lethbridge Bulls and PBA!
The Field of Screams is a collaboration between Prairie Baseball Academy, Lethbridge Bulls and Under The Lights Sports and Entertainment.