News
06/19/2021 12:07 PM
-
Thank you to everyone who came out to the Bulls Home Opener last night, you cheered loud and it worked! The Lethbridge Bulls came out of Game 1 of the 2021 WCBL season with a HUGE 14-7 win against Okotoks Dawgs Black.
Our starting lineup: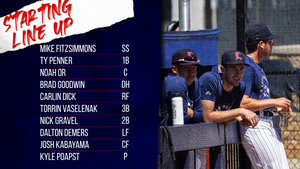 We started the game slowly with no score in the first inning, before Okotoks added the first point in the second inning. The Dawgs Black lead was quickly swept away by the third as Lethbridge added 4 runs to the score.
After Jake Anderson came in as relief for Kyle Poapst in the fourth inning, Bulls Designated Hitter, Brad Goodwin, cracked a home run sending in 3 runs for the Bulls. The fifth and sixth innings held the score at 7-1 for Lethbridge, and Levi Abbott was brought in as pitching relief.
Okotoks added 3 runs to their total in the seventh inning, narrowing the Bulls lead to 7-4. Lethbridge retaliated with 2 runs of their own to end the seventh inning. 5 more runs came in for the Bulls in the eighth inning, to increase their lead to 14-4 heading into the ninth.
The final inning saw Designated Hitter Brad Goodwin doing double duty and stepping onto the mound. Dawgs Black added a two run homerun to end the game at a 14-7 win for the Bulls at home!
The next Lethbridge Bulls home game is on Monday, June 21st at 6:00pm. This game is a fundraiser for the TCMM Memorial Fund, in memory of Tanner Craswell and Mitch MacLean. Tickets can be purchased by ordering online or calling the Bulls office at (403) 320-2025.