News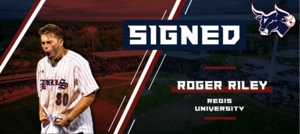 01/30/2020 11:10 AM
-
LETHBRIDGE, AB - The Lethbridge Bulls have announced the signing of returning player, Roger Riley out of Regis University, a NCAA Divison 2 school in Denver, Colorado.
The Las Vegas, Nevada native returns to the Bulls after a productive 2019 where he slashed .321/.379/.321, finishing third in team batting average.
Before his time at Regis University, Riley spent two years with the College of Southern Nevada Coyotes posting a slash line of .272/.358/.337 in 62 games, with a fielding percentage of .981 and 32 assists.
Riley projects as the starting catcher for the Bulls in 2020, given his experience and consistency behind the plate, while also providing the club with a plus bat while in the line-up.
The Bulls season begins May 28th in Fort McMurray, as they take on the Giants in a four-game set before heading home to face the Brooks Bombers in the VisitLethbridge.com Home Opener June 4th.