News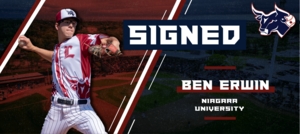 01/22/2020 11:13 AM
-
LETHBRIDGE, AB - The Lethbridge Bulls have announced the signing of returning player, Ben Erwin out of Niagara Univeristy.
Erwin returns for his fourth season with the Bulls having played in the summers of 2017, 2018 and 2019, sporting a 3.88 ERA and 113 strikeouts in 113.2 total innings. A year ago, the Spruce Grove, Alberta native had his most successful season, posting an ERA of 2.74, while tossing 54 strikeouts.
The right-hander, who currently attends Niagara University, an NCAA Division I program in the Metro Atlantic Athletic Conference, will be projected to be atop of the Bulls starting rotation once the 2020 Western Canadian Baseball League season rolls around.
The Bulls season begins May 28th in Fort McMurray, as they take on the Giants in a four-game set before heading home to face the Brooks Bombers in the VisitLethbridge.com Home Opener June 4th.